As far as places to invest in real estate go, it doesn't get much better than Key Largo. It's a beautiful place to live and visit, thanks to its fantastic weather, scenic beaches, and extensive recreational activities. Located in the sun-kissed Florida Keys, this piece of paradise is a distinctive blend of luxury resort living and a laidback Caribbean vibe.
Read on to learn more about investing in the area and the opportunities available in Key Largo homes for sale.
BEST REASONS TO INVEST IN KEY LARGO
The real estate market in the Keys in general is stable and growing. It's not surprising considering the many attractions that this sprinkling of islands off the coast of Florida has to offer. This vibrant region has something for everyone. Here are some of the key reasons why you will want to invest in Key Largo real estate today:
Consistently High Tourist Traffic Year Round

Key Largo — the largest and northmost key in the Florida Keys island chain — is one of the most well-known tourist destinations in the world. It offers an island-style relaxed way of living with easy access to attractions like diving, snorkeling, and the mainland. Key Largo also boasts fantastic local retail and diverse dining options and entertainment, something that other keys lack.

As such, Key Largo attracts hundreds of thousands of tourists yearly, all needing accommodations. With private homes a popular option, property owners have an opportunity to generate consistent income through short-term rentals. AirDNA gives the Key Largo short-term rental market a score of 70 (good). Properties here have a median annual revenue of $114,800, with hosts charging an average daily rate of $465.4. And according to the Monroe County Tourism Development Council's 2022 Tourism Report, around half of the visitors to the Keys stay for 6 days or more.

With the right real estate asset management plan and strategy, renting a vacation home in this tourist-driven community has excellent potential to generate income for owners.

Strong Property Appreciation

Following the global financial crisis in 2008, the Florida Keys has experienced an upward trajectory in property values. Currently, the demand for homes here remains high, with would-be buyers ranging from retirees to remote-working professionals to those seeking a second home in their favorite vacation destination. The median listing home price is $1.5 million (as of August 2023), which represents a very respectable year-over-year increase of 27.9%.

Limited Supply Boosts Value

It's also worth noting that the Florida Keys as a whole are a designated Area of Critical State Concern and have a Rate of Growth Ordinance (ROGO) in place. This means that there are limits placed on new developments. The engineered slow growth coupled with the constant demand for real estate here results in a fairly limited supply of properties, making Key Largo real estate perennially sought after. And as more people choose Florida as their vacation or second home destination, competition remains tight and drives up property value.

Consider your investment options by speaking with a Key Largo investment property management firm to determine what properties are available in the area.

Resilient Luxury Market

Globally, luxury real estate has proven to be significantly more resilient than other sectors over the past few years, and the Florida Keys luxury market in particular is surging on the heels of a restrictive pandemic. In addition, high-net-worth individuals are showing a sustained interest in waterfront properties, which are typically more highly valued. Investing in a "recession-resistant" luxury home means you have a higher chance of getting excellent resale value down the road no matter the state of the market.

Multiple Tax Breaks and Benefits

Depending on eligibility, Florida residents may have several property tax exemptions they can take advantage of. For example, the state has a homestead exemption, and property tax discounts are available for the elderly and disabled. These exemptions can significantly lower your overall tax liability, ultimately improving your ROI.

In addition to Key Largo real estate tax breaks, the state of Florida doesn't have an income tax, and the state's corporate income tax is 5.5%, which is on the lower end of the range. Note that there's a 6% sales tax on transient rental accommodations/transient rentals, which are living quarters rented for a period of 6 months or less. Read more about it here.

Quality of Life

For many who eventually end up investing in Key Largo real estate, the primary appeal has always been the lifestyle that comes with owning property here. Nothing beats waking up to a spectacular sunrise, spending a laidback day at the beach or in the water, and falling asleep to the sound of the surf. Surrounded by pristine coral reefs and lush, untouched wilderness, Key Largo has unending opportunities for outdoor recreation. Known as the Dive Capital of the World, it's home to the John Pennekamp Coral Reef State Park, and is generally a bit more relaxed than buzzy Key West.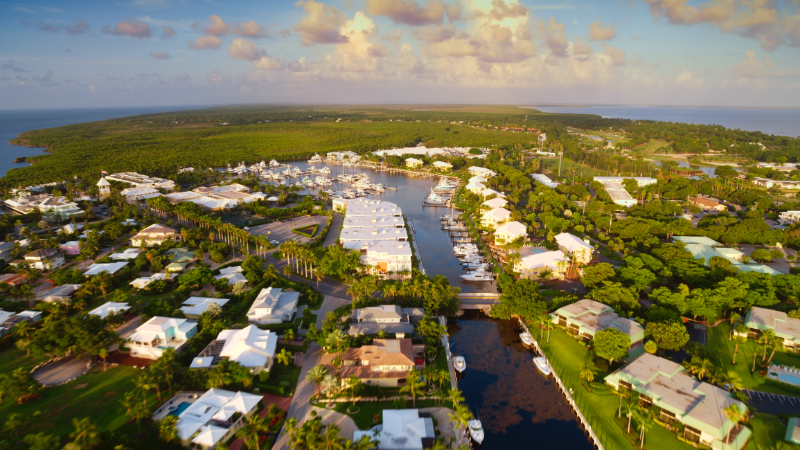 EXPLORE YOUR OPTIONS IN KEY LARGO HOMES FOR SALE
Often, the first step to deciding to invest in a property is choosing a location. As you consider investing in Key Largo real estate, the next step to purchasing a home is deciding on the details of that home, including size, design, layout, property type, and purpose. Narrowing down and identifying the type of home structure and design you're looking for will simplify the search process and allow you to focus on the properties that are aligned with your vision.
See what the market has to offer!
Top Property Types in Key Largo
Prospective home buyers have multiple choices when it comes to the types of homes in Key Largo. From condominiums and townhouses to waterfront mansions and cottages, choose from several options depending on what works best for your lifestyle or aesthetic. Some of the most sought-after areas on the island include North Key Largo, which features exclusive neighborhoods of multimillion-dollar waterfront homes (e.g. Snapper Point, Angelfish Cay, and Sunrise Cay at Ocean Reef Club); the Rock Harbor area; Ocean Shores; and Cross Key Waterways Estates.
Key Largo's Architectural Types
No two homes are alike, and Key Largo offers a gorgeous mix of different design trends and home styles that give the island its unique character. Here's a run-down of the common as well as distinctive architectural styles you'll find in Key Largo:
Cigar Cottages and Shotgun: These homes gained popularity in the late 19th century as Cubans immigrated to the Keys. Cigar cottages are single-story homes with a long central side and lined by three rooms. These are similar to shotgun houses, which are only one room wide and two to four rooms deep without a hallway.
Modern and Minimalist: While many parts of the Keys and Key Largo are committed to preserving historic architecture, modern homes are present in the area, adding variety to the island's overall look and feel. Modern homes feature floor-to-ceiling windows, open floor plans, and high ceilings, usually offering scenic water views.
Balinese: Balinese architecture introduces an Asian aesthetic and, while not as common, are some of the most striking homes in Key Largo. Balinese homes emphasize using natural materials like bamboo poles, wood, and stones. These residences typically comprise several sections that house a different part of the home. The designs evoke a feeling of relaxation, tranquility, and oneness with nature.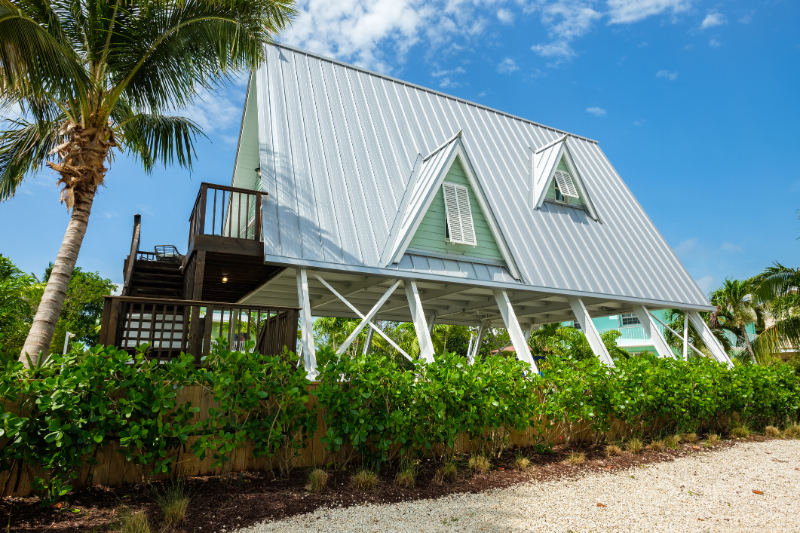 Short-Term vs Long-Term Rentals
There are several factors to consider before deciding whether you'll be taking a long-term or short-term vacation rental approach. There are pros and cons to both, which we'll be breaking down for you. Note as well that Monroe County has stringent rental property requirements, and has a 28-day minimum rental period for units, unless a unit has applied for and received an exemption.
Short-term Rental
Short-term or vacation rentals have become highly lucrative, thanks to booking sites like Vrbo and Airbnb. They make advertising, reservation, and communication a breeze, helping homeowners generate better profitability. These vacation rentals have high rental income because you can charge daily and adjust rates based on seasonality. Short-term rentals also offer more flexibility for blocking off dates and have less wear and tear since contracts are often no more than a few weeks.
Long-term Rental
Long-term rentals are preferred by those looking for a more passive involvement and consistent income. With less guest turnover, managing these properties is generally easier. You can also charge higher security deposits as part of rental agreements, and depending on your arrangement, there might not be a need to furnish the space. These lead to more savings over time, adding to your profits.
INVESTING IN KEY LARGO, FL: TOP TIPS
The real estate industry has plenty of opportunities for anyone with reasonable capital to invest in properties. If this is your first time investing or your first venture in Florida, getting into real estate is not as difficult as it may seem. Here are some beginner-friendly tips for investing in Key Largo, Florida:
Don't max out your budget: Just because you've been approved for $2 million does not mean you should buy a $2 million home. Consider all costs, including closing fees, taxes, and insurance, and from there, you'll get a better idea of how much you can spend on the actual home.
Explore and know the area:Love the home, community, and neighborhood. Know the area and get a good feel of what it would be like to live there for yourself or a renter. Key points to consider include nearby amenities such as marinas and beaches, as well as access to shopping and dining.
Opt for a home inspection: Even if a home looks flawless, go for the inspection. This is especially true for waterfront properties, which tend to be more exposed to the elements, as well as homes that have special features like pools, docks, and other structures.
Work with a real estate professional: Going through the details required in a home purchase can be time-consuming — and there are additional factors to consider in a special market like the Florida Keys. You will want to work with a seasoned local real estate professional who will help you house hunt, negotiate, process paperwork, and make sure that you're informed about local regulations.
Know your DIY limits: There's nothing wrong with handling repairs on your own, as long as it's within your capabilities. Understand the cost associated with repairs and balance it with what you're willing and able to manage. Handling repairs or improvements on your own incorrectly may cost you more in the long run.
Have a must-have list:Before house hunting, clearly understand what you can and cannot live without. For example, do you need a third full bathroom or a dock? Having a clear idea of what you truly need will go a long way to helping your real estate agent narrow down your options.
Don't judge a book by its cover: When viewing a property, look objectively and go beyond the obvious. Learn to know whether a house has good bones or get a floor plan so you can imagine renovations and improvements that might make it worth your while.
Get proper home insurance coverage: Florida is one of the country's most flood-prone states, so ensure you get the appropriate home insurance for your investment. Know the policy details, such as liability covers and deductibles, so you know the extent of your coverage.
Go to multiple open houses:Given your list of requirements, try and visit as many homes as you can manage. As you look through each home, you'll gain a better understanding of what you're looking for. It's also a great way to see other home designs and get ideas on how to decorate or improve the home you will eventually choose.
Make sure to ask questions: Considering the size of the investment, speak up and ask questions if you need clarification. When in doubt, don't assume. Whether it's the seller, your agent, or the home inspector, it's better to ask your questions as early as possible than after the sale is finalized and closed.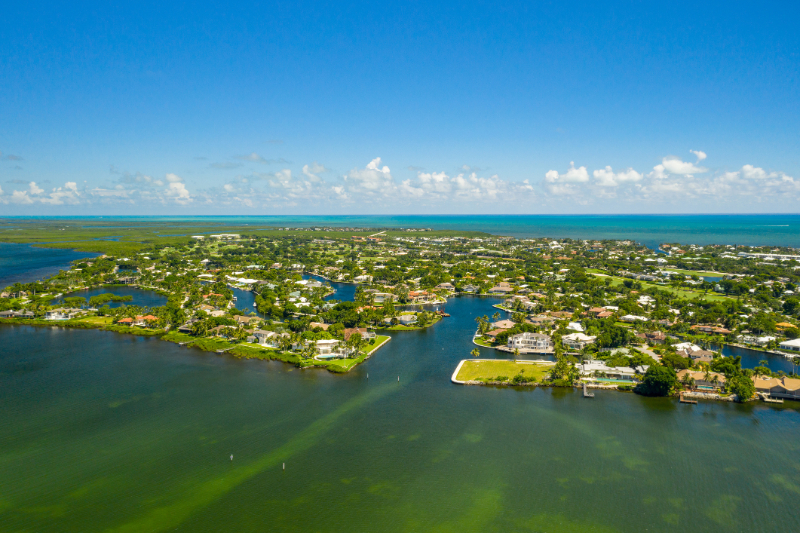 WORK WITH A REALTOR WHO KNOWS KEY LARGO
A Realtor understands the current and local housing market. They are familiar with the neighborhoods, housing inventory (both published and unpublished), and the best way to negotiate with different sellers. They will guide you through house hunting to escrow and closing, making sure you're taking all the proper steps and submitting all the appropriate paperwork.
When choosing a partner, hire someone with experience who is plugged into the local market. Consider Angel DiGiorgio, the Keys and Key Largo's premier luxury Realtor. Angel specializes in luxury homes, investment properties, and single-family residences. She will walk you through the whole process and work with you until you get your dream home.
Key Largo, Florida, is ideal for investors looking to secure their dream home and build long-term wealth. If you're ready to buy a home in Key Largo, call 305.509.0971 or send an email to angel(at)angelfloridakeys(dotted)com today!