With approximately 120 miles of pristine white sand beaches, stunning sunsets, and around 1,700 unique islands connected by 42 bridges, the Florida Keys is a one-of-a-kind waterfront paradise that constantly lures holiday seekers from around the world.
It's no wonder the Keys is a highly sought-after real estate market for vacation rentals. If you're considering investing in a vacation rental in the Florida Keys, be prepared for a competitive market but one that promises great profitability. The key to a successful venture is knowing the market and understanding what your potential customers are looking for.
With this in mind, we discuss below the most essential things to know in buying your first vacation rental in the Florida Keys.
THINGS TO CONSIDER WHEN BUYING A SHORT TERM VACATION RENTAL IN THE FLORIDA KEYS
Florida law defines vacation rentals as "any unit or group of units in a condominium or cooperative or any individually or collectively owned single-family, two-family, three-family or four-family house or dwelling unit that is also a transient public lodging establishment, but that is not a timeshare project".
This means that establishments like hotels, inns, and beds-and-breakfasts may not be treated as vacation rentals. Moreover, it is not considered a vacation rental if the owner lives on the property.
Vacation rentals in Florida are classified as long term and short term rentals. Short term rentals are limited to properties that are being rented out at least three times a year for a duration of no more than thirty days or one calendar month each time. Long term vacation rentals, on the other hand, refer to transient lodging that may be rented for a maximum of six months at a time.
Short term rentals in the Florida Keys
With the growing popularity of platforms like Airbnb and VRBO, short term vacation rentals in the Keys have been flourishing, catering to guests that stay anywhere from one night to 30 days or perhaps even more.
One of the best benefits of owning a short term vacation rental is that you can use the home as your very own getaway when it's not being used by renters. If you love retreating to the Florida Keys in your free time, buying a short term vacation rental gives you the best of both worlds – a second home to escape to anytime you want and a potentially lucrative business that provides passive income.
RULES AND REGULATIONS COVERING VACATION RENTALS IN THE FLORIDA KEYS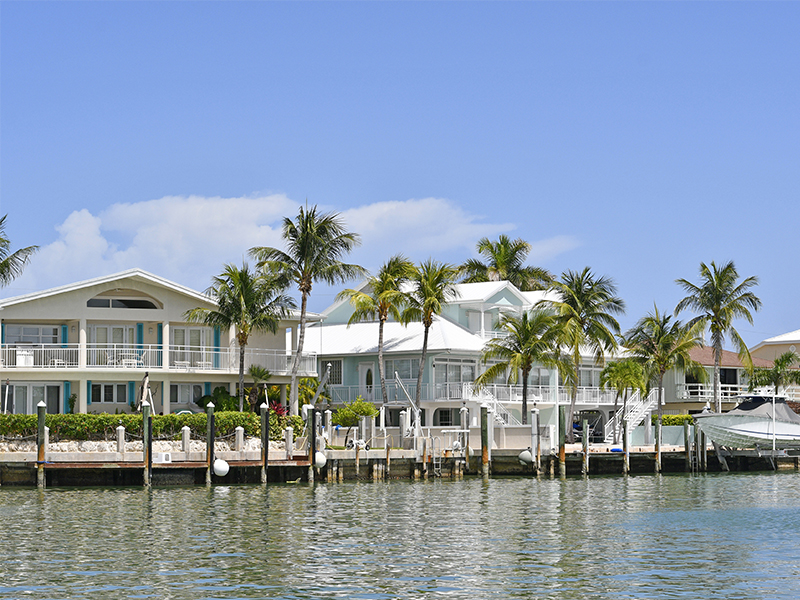 Vacation rentals in Florida are governed by specific laws and requirements that cover everything from getting a permit to maintenance.
Permits and licenses

Florida requires all short term vacation rentals to hold a license issued through the Florida Department of Business and Professional Regulation (DBPR). The license is issued under any of the following categories:

Single license – This is issued to an individual or entity who owns and operates a rental single-family home, condo, townhouse, or collection of units in the same building.

Group license– This is issued to a licensed agent and covers all units they operate within one building or complex.

Collective license – This is given to a licensed agent representing several properties in different locations, with a maximum of 75 rental units within one district.

For more information on vacation rental licenses in Florida, click here.

Taxes: In the Florida Keys, vacation rental owners are subject to taxes on short term rentals imposed by both the state and Monroe County. This includes the county's Tourist Development Tax, which is a 5% tax on the total rental amount for accommodation periods of 6 months or less.

Short term rental guests must also pay 6% sales tax imposed by the state, which the hosts or the rental platforms collect and remit to the government.

Other taxes paid by vacation rental owners include income tax and local business tax.

For information on these taxes, see this page.

Maintenance requirements – Florida-wide rules for maintaining vacation rentals include:

Displaying all current licenses in visible locations

Ensuring the cleanliness and safety of the property and any items that consumers can use such as bedding, glassware, dishes, utensils, and so on

Guaranteeing that the property is kept free of all vermin

Providing baby cribs that meet the safety standards of the Consumer Products Safety Commission
FINANCING A VACATION RENTAL IN THE FLORIDA KEYS
Unless you're paying in cash, finding financing when buying a vacation rental in the Florida Keys is more challenging than obtaining a mortgage for a primary home. Government backed loans such as an FHA loan or a Hometown Heroes loan cannot be used to finance an investment property.
Conventional bank loans that conform to the guidelines set by Freddie Mac and Fannie Mae may be used but expect your lender to have more stringent requirements, including:
A larger down payment of at least 20% to 30%

A credit score of at least 680

A Debt-to-Income ratio of between 36% and 45%

Cash reserves to cover 3 to 6 months worth of mortgage payments

Other underwriting requirements
In addition to conventional bank loans, other financing options for an investment property include:
Jumbo Loan (Non-Conforming Loan)

A jumbo loan is ideal for financing luxury or high end homes as the amount of loan you can obtain exceeds the conforming limits set by Fannie Mae and Freddie Mac. This is basically a fixed rate mortgage on a larger loan, with a typical down payment of around 20% and stricter eligibility requirements.

Home Equity Line of Credit (HELOC)

This is a loan made against your equity on your primary home. With this type of loan, you can potentially borrow up to 90% of your current home value without any effect on the mortgage for your primary home.

Cash Out Refinance on your primary home

A cash out refinance allows you to obtain a new loan for your primary home for an amount higher than your previous loan balance. The excess amount is paid to you in cash, which you can then use in buying a vacation rental in the Florida Keys.

Owner Financing

In some cases, the seller might offer to finance the purchase but will require a large down payment and a shorter payment term.
WHY YOU SHOULD BUY A VACATION RENTAL IN THE FLORIDA KEYS
A vacation rental in the Florida Keys offers not just a highly desirable lifestyle option but plenty of profit opportunities as well. These are some of the gains you can get for your investment.
Accelerating market values and rental prices
The long term outlook for an investment in the Florida Keys real estate is excellent. According to Zillow, home values in Monroe County where the archipelago belongs have appreciated by around 67% in the last eight years. The latest housing data show that listing prices for homes in notable Florida Keys communities such as Key Largo, Islamorada and Key West have increased by around 30% to over 50% from 2022 to 2023 alone.
The prices of vacation rentals peak in December with the highest rental price at approximately $748/night. During the low tourist season from July to October, the average rental price is $429/night .
Notably, easy access to sailing infrastructure like private docks can boost rental value. Since many vacation homes in the Florida Keys offer this sought-after amenity, they draw higher rental prices on top of a consistent stream of vacationers looking to enjoy this holiday paradise.
Premier real estate options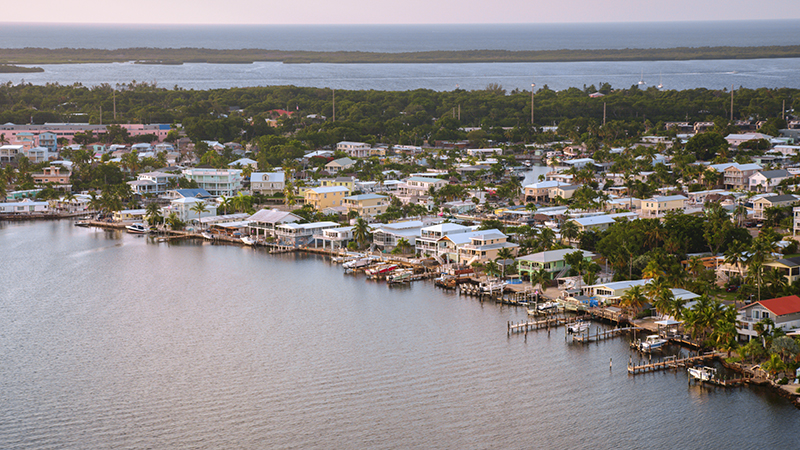 From stylish single-family homes to elegant villas, there is a wide range of property types to choose as your vacation rental in the Florida Keys. They typically include a host of premier amenities like upscale kitchens and bathrooms, swimming pools, and smart appliances.
The Florida Keys offers some of the finest waterfront escapes in the entire US with vacation homes sporting premium architecture and design. From elegant modern homes with upscale finishes to classy Spanish-style estates with deluxe landscaping, investors have a plethora of options to choose from when buying a vacation rental in this beautiful chain of islands.
Some of the most desirable communities in the Florida Keys include:
Key West

Key West is known for spectacular oceanfront views and colorful flowers that bloom year-round. The diverse set of vacation homes here often come with multiple bedrooms, upscale kitchens and bathrooms, and patios where you can sit back and relax to the sound of ocean waves. They also usually provide easy access to endless recreation, entertainment, and dining options, making it a popular community among tourists.

The Lower Keys

Comprising Summerland Key, Big Torch, Cudjoe Key, and others, the Lower Keys is considered to have some of the most relaxing settings for a vacation to remember. The Lower Keys is not all about beautiful beaches – it is filled with natural wonder, being home to National Key Deer Refuge, Florida Keys National, and a number of lovely parks. Homes here typically sit directly or close to the water, offering luxurious features such as game rooms and infinity pools where you can watch some of the most picturesque sunsets in all of the Florida Keys.

The Upper Keys

The Upper Keys is famous as the fishing and diving capital of America. It gives residents and tourists easy access to the mainland, as well as magnificent sights such as John Pennekamp Coral Reef State Park and Everglades National Park. Some of the most popular areas in The Upper Keys include Key Largo, whose stunning coastlines are dotted with beautiful waterfront properties. There is also Islamorada, a fishing village of six beautiful islands that offer an enticing blend of luxury living and a laid-back outdoor lifestyle.
Competitive property tax rates
Vacation rental buyers should also take property taxes into account since they play a large part in determining long term expenses for a home. As part of Monroe County, homeowners in the Florida Keys enjoy a property tax rate of 0.67%, which is lower than the tax rates in Miami-Dade (1.01%) and Collier (0.83%). The statewide average property tax rate in Florida is 0.80%, which is lower than the US average of 0.99%.
In addition to competitive property taxes, one of the most notable benefits of living in Florida is that it is one of only nine US states that does have a state income tax. This covers everything from basic wages to pensions and Social Security benefits. Florida also has no estate or inheritance tax, which means having fewer tax returns to think about overall.
Tax Benefits
Owning a vacation rental in the Florida Keys entitles you to various tax deductions for expenses related to running the business. These expenses include:
Utilities like water and electricity

Transportation expenses regarding matters like repairs, maintenance, and cleaning

Marketing and advertising

Vacation rental insurance bill

Legal and accounting fees, as well as other professional expenses

Guest fees (e.g., Airbnb service fees)

Depreciation of the property
It is also important to make sure that you meet the basic requirements for rental properties of the Internal Revenue Service to be eligible for these tax deductions. Specifically, you should also limit the personal time you spend in your vacation rental to 14 days or 10% of the total time your property is rented.
In addition, if your property is rented out for a maximum of 14 days in a year, you can enjoy the rental income tax free.
Real estate properties built to last
When choosing a home to be used as a vacation rental, it is also vital to consider the materials used in the construction. This is particularly important in the Florida Keys since many vacationers will be looking to rent waterfront homes, which are constantly exposed to coastal elements like salt air and heavy sea winds.
Look for a property that uses corrosion-resistant materials like reinforced concrete, treated wood, timber or galvanized steel cladding, and weatherproof roofing such as aluminum or clay that are more resistant to the effects of the sun and rain.
HOW TO MARKET YOUR VACATION RENTAL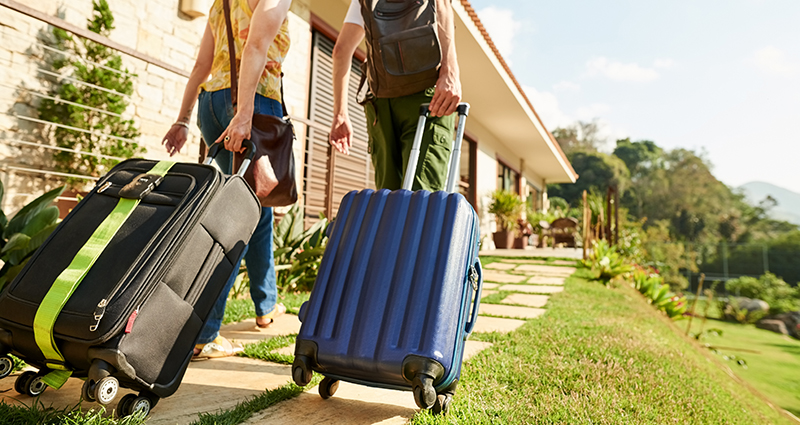 As a year long holiday destination, vacation rentals in the Florida Keys are extremely popular. But while this brings great profit potential for investors, it also means plenty of competition in the market. This makes it imperative to have a solid marketing strategy that will make your property stand out from the rest.
Here are some pointers to consider:
Price competitively – Around 24.7 million tourists flocked to the Florida Keys in 2022 – an increase of 6% from 2021 and 13% from 2019, the last full year before the pandemic. Given the surge of tourism in the area, make sure to keep a close eye on the market to price your vacation rental right and stay competitive.These numbers change depending on seasonal demands, so consider working with a professional Realtor or property manager who knows all about the market trends around the area.

Maximize your online presence – Listing your vacation rental on the top websites will greatly boost your exposure to potential renters. These include Airbnb, Vrbo, and Booking.com. However, keep in mind that maintaining accounts on multiple platforms requires a lot of work, so make sure you have a strategy ready to promptly handle guest inquiries, reservation requests, and reviews.
Use search engine optimization (SEO) – SEO refers to the process of determining how often your website appears on the first pages of search engines like Google. It helps you attract more potential renters, so use SEO to your advantage. Some of the things you can do to achieve this include:

Conducting location-specific searches to figure out what kind of features and amenities tourists often look for when searching for accommodation in the Florida Keys.

Utilizing keywords that people frequently use. For example, your website content can include phrases like "buy a vacation rental in the Florida Keys" or "rent in Key Largo".

Feature popular nearby destinations and things to do, such as national parks and water activities which you will find plenty of in the Florida Keys.

Invest in professional photography – Some rental marketplaces report up to a threefold increase in views of listings with professional photos, as well as two extra bookings per month. It is no question that professional photos help entice tourists, so be sure to upload only the most attractive shots of your vacation rental's best features to make it easy to imagine what a stay there would be like.
INVEST IN THE FLORIDA KEYS WITH ANGEL DIGIORGIO
Whether you are looking to buy a vacation rental in Key Largo, Islamorada, Tavernier, or anywhere in the Florida Keys, there is no better agent to work with than Angel DiGiorgio. A Florida Keys resident for over 25 years, Angel has been helping numerous families secure their very own home or an investment property in the region for over 5 years now. With her unparalleled dedication and local knowledge, she has developed a reputation for her outstanding service, 24/7 availability, and proven-and-tested methods to close the best deals for her client in a smooth and seamless manner.
Set sail today with Angel DiGiorgio's elite team of luxury realtors in the Florida Keys. Give them a call at 305.509.0971 or send them an email at angel(at)angelfloridakeys(dotted)com. For exclusive listings and market updates in the Florida Keys, click here.