There's more to living in Islamorada, Florida than embracing a sun-soaked lifestyle in a tropical paradise. It also means enhancing the overall quality of your life in ways you never thought.
The charming island paradise nestled in the beautiful Florida Keys is an outdoor enthusiast's dream come true. If you've been dreaming of a life where you can enjoy stunning ocean views, warm tropical weather, and an exceptional quality of life, then this idyllic destination is worth considering as your next home.
One of the most remarkable aspects of life in Islamorada is the sheer beauty that surrounds you wherever you go. The Florida Keys are renowned for their dazzling sunsets, crystal-clear turquoise waters, and swaying palm trees. Imagine living in a place where postcard-worthy scenes are an everyday occurrence!
Just 90 minutes south of Miami, Islamorada is perfectly situated, allowing you to enjoy plenty of peace and quiet while remaining in close proximity to bustling Miami and Key West. Whether you're meandering through the botanical gardens, soaking up the sun on the pristine beaches, or taking advantage of the numerous hiking trails, the natural beauty of Islamorada never ceases to amaze.
This village registered a population of 7,107 in 2020. It comprises six beautiful islands: Plantation Key, Windley Key, Upper Matecumbe Key, Lower Matecumbe Key, Indian Key, and Lignumvitae Key.
Whether you're seeking a permanent residence, vacation home, or investment property, Islamorada is the perfect place to call home. There is no better time to make the move to Islamorada, FL and secure a brighter future for you and your loved ones. Browse Islamorada homes for sale now.
THE PERKS OF LIVING IN ISLAMORADA, FLORIDA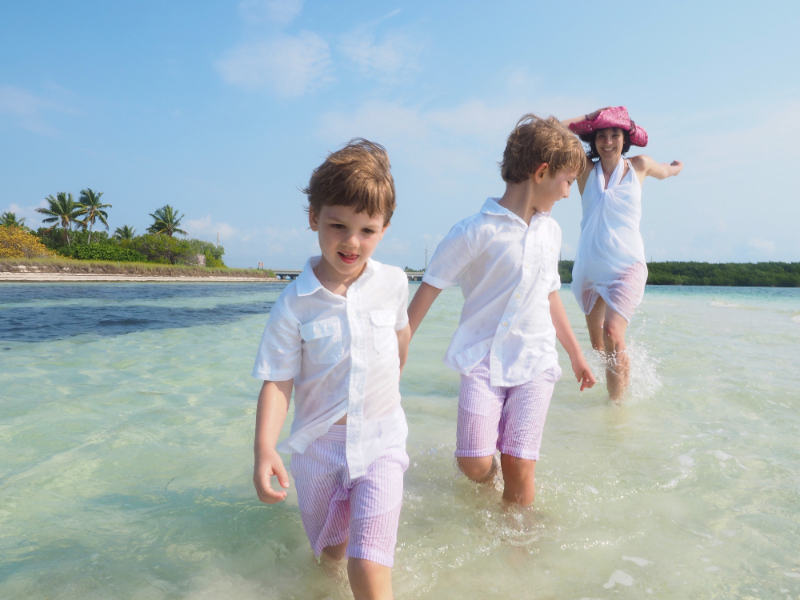 Nestled amidst the picturesque Florida Keys, Islamorada shines as a hidden gem that captivates residents and visitors alike. It comes as no surprise that niche.com, a renowned platform providing comprehensive neighborhood data, designated Islamorada as the #6 Best Place to Live in Monroe County.
From its breathtaking natural surroundings and delightful community spirit to its thriving economy and impressive median household income, Islamorada offers residents the ideal combination of an idyllic tropical lifestyle and opportunities for personal development. Whether seeking neighborliness, pursuing outdoor adventures, or thriving in a prosperous economy, Islamorada stands as an exceptional choice for those seeking a higher quality of life in the heart of the Florida Keys.
Here are some benefits of living in Islamorada, Florida:
Islamorada is a tropical haven for nature enthusiasts

With its idyllic location in the Florida Keys, Islamorada boasts an unparalleled tropical climate and a year-round average temperature of around 80 degrees. Radiant sunshine, pristine beaches, and crystal-clear waters invite residents to indulge in activities such as fishing, boating, diving, and snorkeling. This tropical paradise is a haven for nature enthusiasts and provides an enchanting backdrop that truly defies description.

Beyond the stunning turquoise waters, Islamorada's enthralling natural environment showcases Florida's diverse ecosystems. Here, one can explore the Indian Key Historic State Park or visit the Theater of the Sea marine mammal park. The nearby Everglades National Park provides the opportunity to witness unique wildlife, including manatees, alligators, and a myriad of bird species. The natural beauty of Islamorada adds an unparalleled sense of tranquility to daily life.

Islamorada boasts a vibrant community spirit

What sets Islamorada apart from many other cities is its remarkable community spirit. The tight-knit and welcoming community fosters a sense of belonging that is cherished by its residents. The area has a rich history and culture, which is exemplified through various art galleries, local festivals, and community events. Residents of Islamorada are known for their hospitality, making newcomers feel right at home.

Islamorada has top-tier schools

Islamorada's commitment to providing excellent education is another noteworthy aspect. Families moving to the area can rely on the highly rated Monroe County School District, which boasts a selection of well-equipped schools and dedicated teachers. With a focus on individual growth and well-rounded education, schools in Islamorada assure parents that their children will receive a top-tier educational experience.

Islamorada is a tax haven

Florida remains one of the few places where there is no state income tax. Thus, living in Islamorada, Florida means you'll not only be immersed in the breathtaking natural beauty of the Keys but will also leave you with a lot more of what you worked for. Florida's tax advantages make it an attractive destination for entrepreneurs, individuals, and families looking to make the most out of their income. With more funds at your disposal, you'll have the means to create the life you desire.

Islamorada promises options for growth amid low unemployment

Florida is renowned for having a strong and thriving local economy, reflected in the exceptionally low unemployment rate. In Islamorada, this trend remains consistent, creating a haven for employment opportunities and economic growth.

According to statistics from the Florida Department of Commerce, the unemployment rate in the Sunshine State was 2.6% in June 2023. It's significantly lower than the national average, which was 3.8% in August 2023.

This low unemployment rate means that individuals hailing from various industries and professions will find ample opportunities to thrive.

Additionally, entrepreneurs and business owners may find exciting possibilities for success while living in Islamorada, Florida. The Keys, with its booming tourism industry, provides exceptional opportunities for those looking to establish their own ventures. By investing in Islamorada's real estate market, you can capitalize on the steady growth and durability of the local economy. Browse homes for sale in Islamorada now

Islamorda's high household income presents opportunities for relocation

One significant facet that makes Islamorada stand out is its prosperous economy, contributing to its impressive median household income of $77,423. This figure significantly surpasses the national average of $69,021. The local economy is primarily driven by diverse industries such as tourism, hospitality, fishing, and water sports. The thriving business environment presents ample opportunities for relocation, career growth, and entrepreneurial endeavors.
RECOMMENDED THINGS TO DO IN ISLAMORADA, FLORIDA
Recommended outdoor activities

Fans of nature and the outdoors will find living in Islamorada, Florida a dream come true. Whatever activity you're partial to or if you simply adore the great outdoors, you'll always find plenty of cool things to do in Islamorada.

Diving and snorkeling. Be amazed by the vibrant coral reefs, abundant marine life, and tranquil waters. Islamorada boasts some of the best snorkeling and diving spots in the United States, including the famous Alligator Reef, where you can spot the resident sea turtles and playful schools of fish.

Sport Fishing Capital of the World. Calling all anglers! Islamorada's reputation as the "Sport Fishing Capital of the World" is well deserved. From marlin and sailfish to tarpon and bonefish, the waters surrounding this charming island teem with an incredible array of game fish. Whether you're a seasoned professional or a beginner hoping to learn the ropes, Islamorada is the place for you.

Kayaking and paddleboarding.Picture yourself gliding through calm waters with mangroves on either side while being serenaded by the sounds of nature. Islamorada offers the ideal setting for kayaking and paddleboarding, allowing you to get up close and personal with the breathtaking coastline and its inhabitants.

Recommended state parks to visit

Florida, a land of sunshine, stunning beaches, and vibrant cities, is also blessed with an abundance of natural wonders. They allow visitors to connect with nature, history, and the Earth's geological wonders. These lesser-known destinations reveal the deeper layers of Florida's diverse ecosystems and cultural heritage, making them must-visit spots for any adventurer seeking an authentic Floridian experience.

While the world-renowned attractions in Miami and Orlando may grab the spotlight, there are lesser-known gems that deserve your attention when you are living in Islamorada, Florida.

Indian Key Historic State Park

Indian Key Historic State Park offers an authentic glimpse into Florida's past. Nestled amidst turquoise waters, just 6 miles south of Islamorada, this 11-acre island transports visitors to the 19th century, when it was a bustling community.

Explore the ruins of a once-thriving town that was the first county seat of Dade County. Wander through the remnants of old structures, including a hotel, general store, and shipwrecked artifacts. The mesmerizing tales of Indian Key's pirate lore and interactions with Native Americans will leave you enriched.

Everglades National Park

Around an hour away from Islamorada, Everglades National Park, a UNESCO World Heritage Site, holds an unparalleled status in Florida's ecological tapestry. This remarkable wetland system, covering 1.5 million acres, offers an unmatched experience.

The Everglades houses a diverse range of plant and animal species, including the elusive Florida panther, the American crocodile, and the West Indian manatee. Explore the unique habitat via airboat tours, guided hikes, or kayak excursions to experience the sheer richness of this wilderness. Located about an hour away from Islamorada, The Everglades offers all types of outdoor adventures that makes every trip worthwhile.

Hop aboard an airboat to glide across the "River of Grass" and navigate through dense mangroves, sawgrass prairies, and serene freshwater marshes. Witnessing alligators basking in the sun, exotic bird species soaring above, and serenading frogs is an unforgettable experience.

Windley Key Fossil Reef Geological State Park

Tucked away in the Upper Keys, Windley Key Fossil Reef Geological State Park blends natural history with unique geological formations. The fossilized limestone quarry reveals the incredible remains of a 125,000-year-old coral reef. Wander along trails amid towering quarry walls and marvel at the intricate patterns and formations of the fossilized reef. These remnants of prehistoric life are just one of the geological marvels that await you at this historic site.

The park also hosts interactive exhibits and displays, providing visitors with an educational journey into the history of the region. Learn about the fascinating process of quarrying and the importance of coral reefs in Florida's ecological balance.

Lignumvitae Key Botanical State Park

Lignumvitae Key Botanical State Park is a protected island sanctuary that boasts an enchanting tropical forest and a variety of exotic plants.

Explore trails that wind through the dense, 280-acre forest and immerse yourself in the tranquility of the surroundings. Encounter rare species of flora, such as the Lignumvitae tree, which gives the park its name.

Visit the historic Matheson House, a perfectly preserved landmark from the early 20th century. Explore the rich history of the island and the family that once called it home and marvel at the pristine architecture and vintage artifacts.

Other recommended attractions

Beyond the plethora of outdoor recreation opportunities, Islamorada is also home to attractions that provide endless entertainment for residents and tourists alike.

Theater of the Sea. Spend a day immersed in a magical marine kingdom at Theater of the Sea. Explore interactive exhibits, swim with dolphins or sea lions, and witness delightful animal shows.

Robbie's Marina. Get up close and personal with the resident tarpon as you hand-feed them at Robbie's Marina. This unique adventure has become a favorite among locals and visitors.

Recommended shopping options

Living in Islamorada, Florida means discovering the shops, restaurants, and live music that await you in this picturesque village. Islamorada may be renowned for its natural beauty, but its vibrant shopping scene is a hidden gem.

The Trading Post. For those seeking a truly authentic Florida Keys shopping experience, a visit to The Trading Post is essential. Step back in time and immerse yourself in vintage nostalgia as you peruse an eclectic mix of antiques, curiosities, and collectibles. You'll find unique maritime artifacts, nautical décor, and vintage Floridian art that will bring the spirit of the Keys into your home.

The Rain Barrel Artisan Village. This is where art, shopping, and whimsy intertwine. This enchanting complex features a variety of artist studios, specialty shops, and galleries. From vibrant paintings and imaginative sculptures to handcrafted jewelry and clothing, the village is a great place to uncover the talent of local artists.

The Morada Way Arts & Cultural District. Every third Thursday of the month, local artisans line the streets to showcase their creations during the Morada Way Art Walk. Delight in extraordinary handmade jewelry, authentic local crafts, and stunning paintings that capture the essence of island living.

Recommended dining options

When it comes to dining options in Islamorada, the choices are plentiful and diverse. From waterfront seafood delights to Italian culinary wonders to beachside cafes with stunning coastal vistas, Islamorada offers its unique flavors amid a laid-back atmosphere. Sample the gastronomic delights and allow Islomorada to tantalize your taste buds in a way that only this tropical paradise can.

The Green Flash Lounge. Located in the heart of Islamorada at mile marker 81.6, The Green Flash Lounge is a waterfront restaurant specializing in local seafood delicacies combining Caribbean and Floridian flavors. The stunning sunset views from the outdoor deck paired with friendly service make this an ideal spot to unwind while indulging in the signature "Catch of the Day" or a succulent lobster bisque.

Hungry Tarpon Restaurant. Located in Robbie's Marina, the Hungry Tarpon Restaurant is an iconic Islamorada eatery frequented by anglers. It allows guests to hand-feed massive tarpon that flock to the docks, while making sure the food remains the star of the show in the hearty breakfasts, sumptuous seafood dishes, and mouthwatering key lime pie it serves.

Ciao Hound 84 Italian Kitchen & Bar. Searching for a taste of Italy in the heart of Florida Keys? Look no further than Ciao Hound 84 Italian Kitchen & Bar. Combining traditional Italian cuisine with a modern and vibrant atmosphere is what sets this restaurant apart. Whether you're craving authentic wood-fired pizzas, delectable pasta creations, or tiramisu that transports you to the heart of Italy, Ciao Hound 84 is a haven for foodies who appreciate the flavorsome simplicity of Italian cooking.

Tiki Bar at Overseas Highway, Islamorada. What can be more iconic than a tiki bar? Surrounded by swaying palm trees and panoramic ocean views, the open-air Tiki Bar at Overseas Highway serves refreshing cocktails and casual beachside fare. Dance to live music, mingle with the friendly crowd, and enjoy the delicious fish tacos and conch fritters – it's the epitome of a laid-back Floridian dining experience.

Morada Bay Beach Cafe. Nestled on the soft sands of Islamorada's pristine coastline, Morada Bay Beach Cafe stands out among the island's dining establishments as a paradise within a paradise. This enchanting outdoor Mediterranean cafe, set amidst swaying palms and azure waters, offers an unforgettable dining experience. The picturesque setting alone is worth the visit, but it's the diverse menu of mouthwatering dishes inspired by Mediterranean and Caribbean flavors that truly sets it apart. From fresh seafood platters and zesty ceviche to delightful tapas and refreshing cocktails, every mouthful is a journey of the senses that transports you to distant shores.
INVEST IN ISLAMORADA REAL ESTATE FOR SALE WITH ANGEL DiGIORGIO
Whether you want to know more about the homes available in the area or are looking to purchase a house in Islamorada, get in touch with Angel DiGiorgio's elite team of luxury Realtors in the Florida Keys.
Discover the diverse range of real estate opportunities available in this vibrant community by giving Angel a call at 305.509.0971 or leave her a message here.