The Florida Keys on the southern coast of Florida are a coral cay archipelago that constitutes the southernmost part of the continental United States. The Upper Keys, in particular, are islands formed through sandy-type accumulations of limestone grains from plants and marine organisms. This archipelago is perched on an ancient coral reef seated between the Atlantic Ocean and Florida Bay. The Upper Keys, connected by a series of 42 bridges, consist of North Key Largo and Key Largo, Tavernier, Plantation Key, Windler Key, Islamorada, Upper Matecumbe Key, Tea Table Key, and Lignumvitae Key, Indian Key, and Lower Matecumbe Key. 
If you are looking for luxury waterfront homes for sale in the Florida Keys, the Upper Keys are your best bet for your new vacation or retirement home or your new investment property. The Upper Keys are relatively quieter and more relaxed, away from the hustle and bustle of busy Key West. Visitors and residents of the Upper Keys enjoy various attractions and activities, especially for those looking to enjoy the waters, amazing marine life, and spectacular views.
WHY BUY WATERFRONT HOMES FOR SALE IN THE UPPER KEYS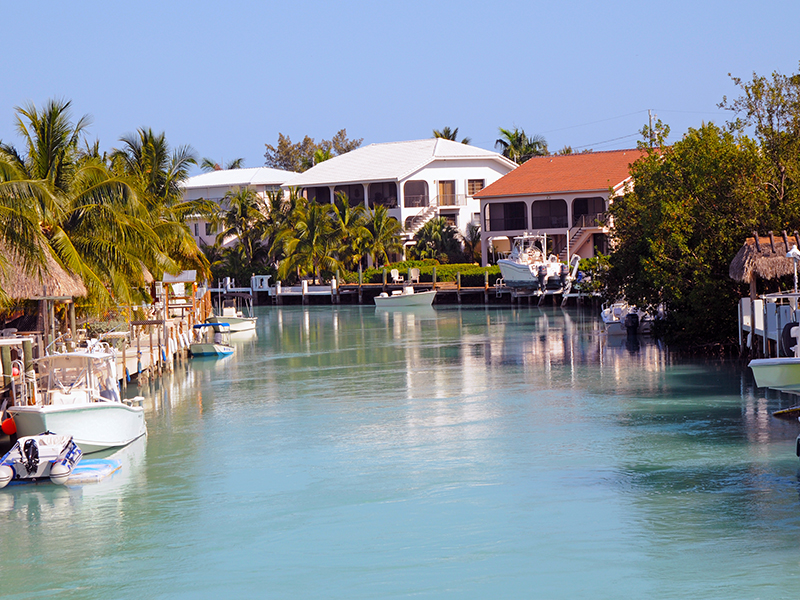 Waterfront homes for sale in the Florida Keys are highly sought-after, with home buyers and investors looking for luxury beachfront properties where they can reap the benefits of the archipelago's subtropical climate and environment. Imagine waking up to a beautiful sunrise and crystal-clear water, as well as witnessing a dramatic sunset every day. 
While buying Upper Keys real estate for sale is a good investment decision, you might want to know what's in it for you when you purchase waterfront homes for sale in the Upper Keys. To help you make a smart, informed decision, here are the top things you need to know about Upper Keys homes for sale.
Accessibility
Living on an island is a great way to get away from the din of urban spaces and just enjoy the quiet subtropical island life. However, some people might still be concerned about getting to and from major cities and business districts. Transportation options in the Florida Keys can be by air, land, and sea.
By air. Many Florida cities have direct or connecting flights to Key West International Airport. Some major airlines that fly to Key West include American Airlines, Delta, JetBlue, American Eagle, United, Allegiant, and Silver Airways. There are also on-demand charter flights that serve Key West. From the airport, there are land transportation options such as local shuttle buses, taxis, and rental cars. You can also fly into the Florida Keys through Florida Keys Marathon International Airport aboard on-demand small charter aircraft. From there, land transportation options include airport shuttle buses, taxis, and rental cars. Other airports that have flights to the Florida Keys include Fort Lauderdale-Hollyood International Airport and Miami International Airport.
By car. If you are coming from Miami International Airport, take LeJeune Road south to 836 West and then the Florida Turnpike south to Key West. The Florida Turnpike ends at US Highway 1 in Florida City. Follow US Highway 1 south, about 22 miles to Key Largo. From Fort Lauderdale-Hollywood International Airport, follow the signs that lead to 595 West. Take 595 to the Florida Turnpike and follow the signs that lead to the Florida Keys. Traveling within the Florida Keys by car means you will be traversing the Florida Keys Overseas Highway, the only road in Florida that has been designated an All-American Road for its beautiful, scenic route featuring 42 bridges. More on this later.
By public transportation. From the Miami and Fort Lauderdale Airports, the FlixBus public buses stop in Key Largo, Islamorada, Marathon, Big Pine Key, and Key West. Greyhound Lines' buses have scheduled stops along the route between Miami International Airport and the Florida Keys and Key West. Keys Shuttle and Florida Keys Express Shuttle also have trips from the Florida Keys to Miami and Fort Lauderdale airports. There are also the National Charter Bus Miami bus rentals and the Miami Charter Bus Company for group travels and tours. Amtrak can take you to Miami and then transfer you to a Keys Shuttle bus.
By sea. Key West Express has high-speed passenger ferries docked at the Key West Bight Ferry Terminal that travel to and from Fort Myers Beach and Marco Island. If you are an experienced boater, you can also travel to and within the Florida Keys via private boat along the Atlantic side of the Keys or on the Gulf of Mexico side. You will take the specially-marked Intracoastal Waterway, and after Long Key, international markers apply. Numerous marinas can accommodate reservations.
The "Highway that Goes to Sea"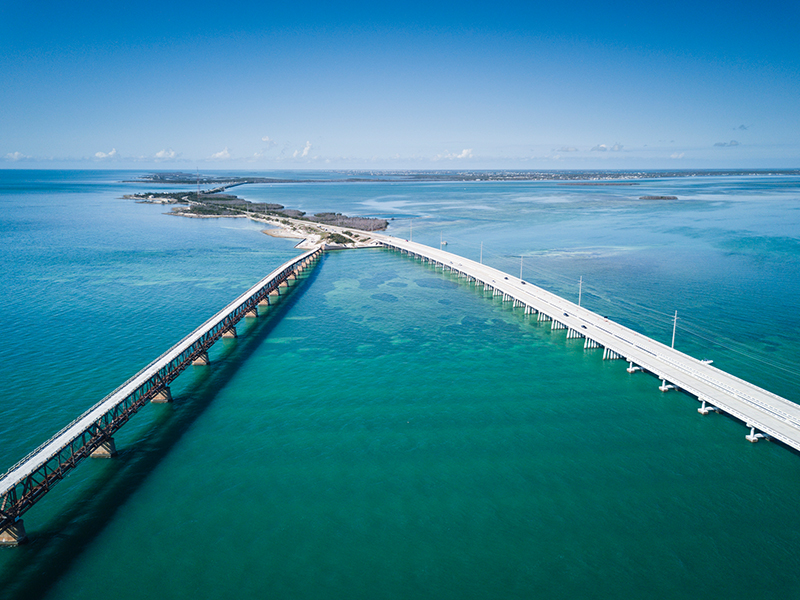 The southernmost leg of the US Highway 1 is the Overseas Highway, also often referred to as the Highway that Goes to Sea. The Florida Keys Overseas Highway is 113 miles of roadway from Key Largo to Key West, with 42 bridges connecting the Keys in a series of giant arches of concrete steel over the Atlantic Ocean, Florida Bay, and the Gulf of Mexico. 
Driving along the Overseas Highway will help you appreciate the Florida Keys' majestic environment. There is an abundance of coral and limestone islets dotting the waters that you will see while driving along the Overseas Highway. In 2009, the Overseas Highway was designated as Florida's first and only All-American Road by the US Federal Highway Administration. The Overseas Highway winds past Upper Keys marinas where some sportfishing fleets and sailing yachts are docked. You will also get to appreciate the waterfront villas decorated with palm trees and flowering plants.
Pleasant climate year-round
The Florida Keys enjoy a mild, tropical-maritime climate. The average high is 89° F at the peak of summer, and the islands are surrounded by cooling ocean waters. Having a property in the Upper Keys allows you to have your own accommodation, whether permanent or for vacation, as you take a refreshing swim at the beaches or go snorkeling or diving. During the winter, cold fronts bring frost to mainland Florida but not to the Florida Keys. Because of this, you can enjoy water activities in any season. 
Having a property in the Upper Keys is also a good investment opportunity. The archipelago has numerous vacation spots and is teeming with activities and attractions for visitors of all ages and interests. You can turn your Upper Keys waterfront property into a rental accommodation that exudes a more homely vibe and is usually more affordable than hotels but with the same high-quality room amenities.
Resale value
Waterfront properties typically have high resale value. There is a limited area around bodies of water, and it's because of this that waterfront properties hold and increase in value over long periods. 
When you buy an Upper Keys real estate property for sale, you are getting much more than a waterfront home. Breathtaking views, living closer to nature, and the physical and mental health benefits come with it. If you plan to resell your Upper Keys waterfront property in the future or put it up for rent, you will get great deals for the benefits and better quality of life that come with owning and living in a waterfront house. Generally, waterfront homes also increase in value faster than other types of homes. 
If your waterfront Upper Keys real estate for sale has water access, it can have a higher investment and resale value. Easy access to the water means it will be easier to build a dock and enjoy water-based activities near your property.
Vacation rental appeal
Families and individuals typically travel and go on vacation during the summer. Fortunately, in the Upper Keys, it feels like a cool summer day all year long. Waterfront vacation rentals draw a higher rental price and have the potential to have more consistent tenants than other types of vacation rentals. Vacationers who love boating or water adventures would prefer accommodations that have easy access to a private dock where they can anchor their vessels. Sailing access typically increases rental value.
OVERVIEW OF WATERFRONT HOMES FOR SALE IN THE UPPER KEYS
Upper Keys homes for sale range from $900,000 to $4 million. Take advantage of everything the Florida Keys has to offer by having your new home or investment property here. But before choosing which of the waterfront homes for sale in the Upper Keys you will be getting, here are some things to take into account.
Types of waterfront properties
There are generally three kinds of waterfront properties in the Florida Keys depending on the waterfront views they offer.
Canalfront. Canalfront homes have access to open waters through channels. This type of waterfront property is typically more affordable than most other properties and offers views of the other properties across the canal as opposed to having sunny oceanfront views. If you are looking for a waterfront house in the Upper Keys with private dockage, a canalfront home is an affordable choice.
Oceanfront and bayfront. As their names suggest, oceanfront and bayfront properties offer unparalleled views of the ocean or bay. Oceanfront and bayfront homes usually have higher values than canalfront homes. An oceanfront home offers some of the most scenic views of the Atlantic or the Gulf of Mexico. If you prefer to witness beautiful sunsets then you can opt for bayfront homes.
Features and amenities of a waterfront house
Being situated near or on the water, waterfront properties are a unique and scarce commodity. It also offers a unique lifestyle. And while every luxury waterfront home for sale in the Upper Keys has its own charm and features, here are typical features and amenities you can expect from waterfront real estate.
Privacy. Unlike houses in mainland neighborhoods or subdivisions, waterfront homes are larger and more spaced apart, giving you more privacy. Nature itself also serves as a natural boundary between waterfront homes.
Boating accommodation. Waterfront properties in the Upper Keys differ by how much they allow passage for certain boat sizes. This is based on the property's controlling depth, the minimum water depth that a boat can travel through to reach open water. When choosing a waterfront property, remember that the bigger the boat or vessel, the higher the controlling depth, and so the more expensive the waterfront property will be.
Glass doors and large windows. Make the most of the stunning waterfront views by having large windows and glass doors. Even if you are not out on the water, you will still get to enjoy the views while indoors.
Deck or patio and outdoor lighting. Having a deck or patio will allow you to enjoy the fresh air and ocean breeze. Waterfront homes often already have an attached deck or patio. But if you are planning to build your own, make sure to take note of any relevant building permits for patios or decks in the Florida Keys and your local community. Decorate your deck or patio with outdoor lighting for brighter nights and more enjoyable barbecue parties or outdoor dinners while enjoying the luxurious views of the night sky.
Outdoor shower or mudroom. Spending time out on the water is a common pastime for residents of waterfront homes. To avoid tracking mud, sand, water, and other debris into the home, many waterfront houses are equipped with an outdoor shower or mudroom where you can take a shower or leave your used clothes, shoes, and equipment after a day of fishing, swimming, and other outdoor water activities.
Private dock. Whether you are looking for a safe place to store your boat, a private fishing spot, or a space to entertain guests, a private dock is a no-brainer must-have for waterfront properties. Different kinds of docks are suitable for each property. There are permanent stationary docks in areas where the water level rarely changes or changes very little. Pipe docks and lift docks are for places where the water level remains constant. Floating docks, on the other hand, are for properties where the water level changes significantly.
Top communities where you'll find waterfront homes for sale in the Upper Keys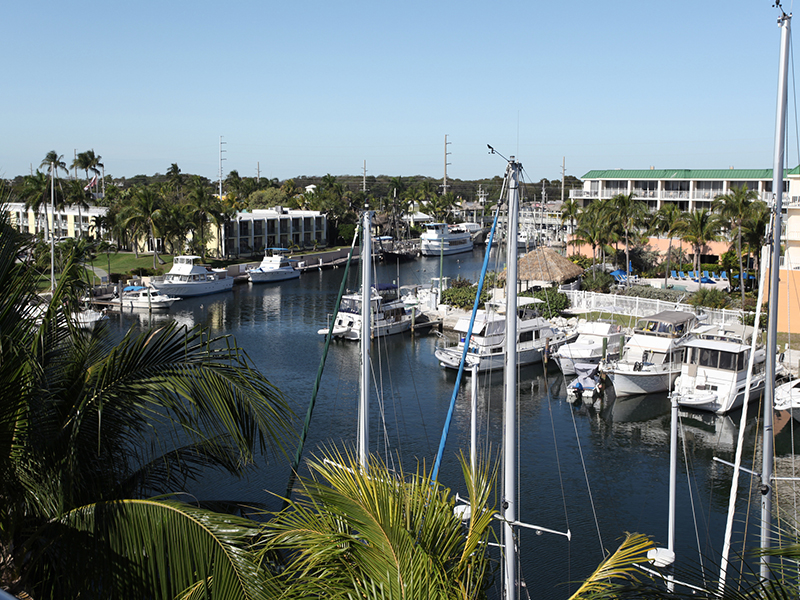 Get to know the different communities in the Upper Keys to help you decide where you want your new waterfront home to be.
Key Largo. Perhaps the most popular destination in the Upper Keys, Key Largo offers the best of both worlds – the forest and the sea – as well as stunning views of the Atlantic Ocean, the Gulf of Mexico, and the Florida Straits. Key Largo is the first and northernmost island in the Florida Keys and is home to pristine coastlines and beautiful waterfront properties. It is both a popular tourist destination and an in-demand place to live due to its proximity to Miami. It also offers fantastic weather throughout the year. If you are looking for wide-open spaces to run and play, spots to escape the harsh winter weather, investment opportunities for vacation rentals, and the best waterfront home for a perfect retirement life, then Key Largo is the island for you.
Buccaneer Point. This neighborhood is located at mile marker 98 in Key Largo on the gulf side. It is a luxury community consisting mostly of single-family homes. It is also one of the most sought-after locations for homebuyers looking for beautiful bayfront homes for sale in the Upper Keys with large lots and sunset views.
Port Largo. This community is located near the old Port Largo Seaplane Base southwest of Key Largo on the Atlantic side. The strip of land that was once the airport is now a street called Ocean Cay lined with oceanfront homes.
Sexton Cove. Sexton Cove Estates is a neighborhood in Key Largo. Some of the popular destinations here include Jimmy Johnson's Big Chill and Bluefin Rock Harbor Marina. Experience the area's natural beauty by exploring Dagny Johnson Key Largo Hammock Botanical State Park and John Pennekamp Coral Reef State Park. Other outdoor activities you can enjoy here also include game walks and birdwatching.
Garden Cove. This neighborhood in Key Largo is located on the oceanside and is an unincorporated community bordering North Key Largo. It is home to the Garden Cove Martina, which is accessible via the Garden Cove Canal.
Bahia Mar Estates. Waterfront home listings in Bahia Mar Estates include vacation homes, apartments, penthouses, luxury retreats, lake homes, and villas. This neighborhood features homes in different styles and sizes that range from around 1,500 to over 1,600 square feet. Living in Bahia Mar Estates gives you unobstructed views of the Gulf of Mexico.
Rock Harbor. Rock Harbor is an unincorporated community in Key Largo along the Overseas Highway, northeast of Thompson and southwest of Newport. This neighborhood has an elevation of 10 feet, which is relatively high compared to most of the Keys. It is located about three miles westward of El Radabob Key.
Get to know more about the Upper Keys, as well as the listed waterfront homes for sale in the area, here.
GET STARTED WITH ANGEL DIGIORGIO FLORIDA KEYS LUXURY REALTOR
The "Keys" to owning your next home in the Upper Keys and nearby Florida Keys areas is with the professional team at Angel DiGiogio Florida Keys Luxury Realtor. At the helm of this group is Angel DiGiorgio – a resident of the Upper Keys for 25 years. She and her team of luxury realtors have over five years of experience in luxury waterfront properties in the Upper Keys and the Florida Keys region. The team is dedicated to making your waterfront real estate buying process a successful and satisfying journey through their personalized service and attention to detail.
Set sail today with the team of Angel DiGiorgio Florida Keys Luxury Realtor. Call them at 305.509.0971 or send a message via email. You can also reach them here.