Vacation rentals are becoming increasingly popular investments, especially in the Florida Keys. 
Not only do rental homes provide a means to generate income regularly, but they also grow in value at a much better rate than many other investment types. Another reason to invest in a vacation property in the Florida Keys is that it gives an investor a great retirement home option. 
With so many different locations to choose from in the Florida Keys, it can be easy for investors to look only at the well-known keys such as Key West, and Key Largo, and while their popularity is justified there are some other places worthy of an investor's attention. 
Here we'll take you through the reasons why vacation rentals in the Florida Keys are a good investment and highlight some of the lesser-known locations that make this island chain. 
Potential for high returns on investment
Vacation rentals in the Florida Keys are good investments not only as a continuous source of income but for the returns an investor can make if they decide to sell. 
Increase in Property Value 
If we take a look at the home appreciation trends in Munroe County, (where the Florida Keys are in) we see that over 5 years there has been good growth in the value of homes.
It is true that the housing market in the Keys was affected by the increase in interest rates that were brought in by the Federal Bank in mid-2022. However, after an initial dip in home prices in Monroe County (where the Florida Keys are in) between August and September 2022, the market has consistently shown an upward trend. 
The need for vacation homes in the Florida Keys
In 2019, Munroe County conducted an analysis of the vacation rental market in the US and how it impacts the Florida Keys. Their findings proved to be eye-opening.
They found that of the 120 million households in the US, 63% reported that they had visited a beach destination within the last five years, that's 76,600,00 households. Of these almost 77M households, 74% rented vacation homes, while the other quarter indicated they were open to doing so in the future. 
What is also compelling is how popular the Florida Keys are. The analysis found that within a set of locations that were in direct competition with the Florida Keys, the Keys proved to be the 3rd most popular destination, only a fraction behind the 2 other destinations. 
When provided with the options of The Hawaiian Islands, Southern California, The Bahamas, Mexico, the Caribbean, and the Florida Keys, 77% of the travelers indicated that they would prefer to rent a vacation home in the Keys. The Hawaiian Islands and Sothern California scores 78% and 79% respectively. When we take into account the numbers for people who would also consider using traditional lodgings the Florida Keys came out on top, with an overall score of 75%.
Note that these figures only pertain to US holidaymakers and that the Florida Keys also attract an enormous amount of international travelers. 
Why tourists choose vacation homes
There's a growing desire among holidaymakers to get the most out of their experience when traveling. This means eschewing the normal routine of checking into a hotel and looking for a better experience in a vacation home. Some of the benefits of choosing a vacation home include:
Save money. Vacation rentals are generally more affordable than booking multiple hotel rooms for families and groups of friends. There are also no unpleasant hidden or extra charges you need to cover when you check out. Hotels make it very easy to get you to rack up extra expenses such as spa and treatment services, business center use, laundry services, and even the minibar which can all add up significantly to your bill at the end of your stay. Many people prefer the relatively straightforward way of paying upfront at the beginning with no extra costs when you leave. 
Comforts of home. Being an actual home, a vacation rental provides more personal space and premium privacy. In a hotel, much of what you do actually revolves around what the hotel allows. Want to swim at night? The pool may be closed during those hours. Want to eat late? The restaurant is probably not open and you're left to order from room service. In a vacation home, you have the comforts of home any time you want. 
Amenities. Vacation rentals often come with desirable amenities such as well-equipped kitchens, pools, and shared clubhouses. This makes them at least as functional as many hotels without all the restrictions. There's also the fact that when travelers choose a vacation, it's with a specific amenity or activity in mind. A vacation rental gives them the opportunity to choose the most convenient location given their interests. 
Pets can come with you. It's often a difficult experience having to leave the family pet behind, and it can be costly too if you have to send them to a professional service to look after them. There's the slight anxiety of being away and also wishing they were with you enjoying the family holiday. A vacation home, unlike many hotels, will allow you to do this. 
Unique experience. More and more travelers are looking for more authentic experiences. Many luxury hotels are designed and operated to keep you inside the hotel and it is standard practice for hotels to train their staff to always recommend hotel amenities. Vacation rentals are closer to the attractions, allowing guests to discover the community and interact more closely with locals during their stay.
Vacation rental types in the Florida Keys
Investing in vacation rental properties gives you an opportunity to experience this picture-perfect island chain. The Florida Keys boasts a beautiful range of vacation rentals that will interest even the most discerning investor.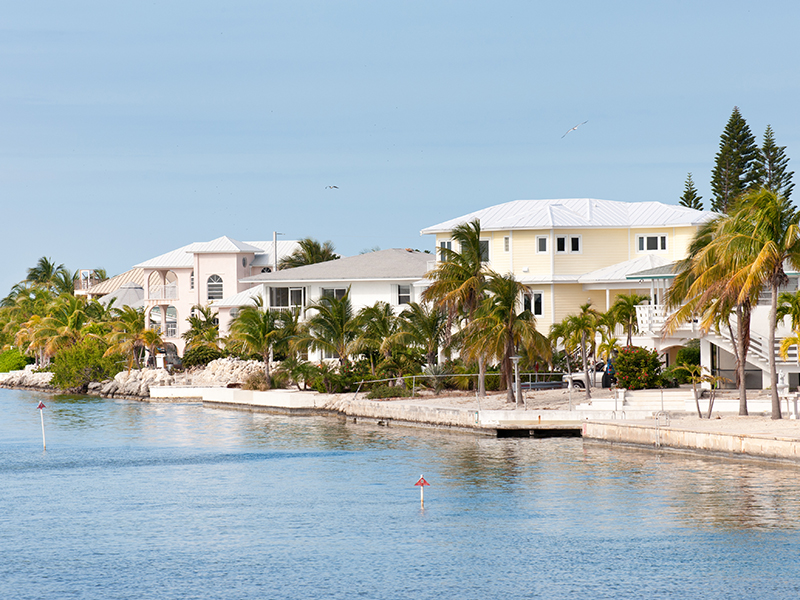 Oceanfront beach properties offer pristine water, white sandy beaches, and ocean views just steps away from your own beachfront vacation rental. 
Upscale villas are designed for luxurious living that often reflect the natural settings of the Keys. They will likely feature expansive living and bedroom spaces, well-appointed interiors, and modern amenities such as gourmet kitchens, spas, heated pools, and private docks.
Condos and townhomes combine the luxury of a hotel and the comforts of home. Offering convenient perks such as private balconies with panoramic ocean views and shared amenities like community pools, kids' playgrounds, tennis courts, and fitness rooms.
Single-family homes are spacious with a homey feel. Typically, these are a favorite choice among couples and families to enjoy the charm of Florida Keys.
Which Key fits?
The Florida Keys have a great variety of Islands. Some are very well known and popular, and others are less known but provide interesting options for investors. In this section, we'll take you through both to give you a fuller understanding of what the Florida Keys hold for you. 
Key West
Let's start with one of the most well-known keys. At the very tip of the archipelago is Key West. As you would expect, it's a great place for water activities, especially if you're into snorkeling, with an abundance of marine life and shipwrecks to explore. It also has fantastic beaches. Fort Zachary Taylor Historic State Park Beach in southern Key West is a great area for swimming or snorkeling and you can also immerse yourself in the history of the fort. There's also Smathers Beach, the largest public beach in Key West. Spanning half a mile long with palm trees providing ample shade, this summer hotspot hosts approximately 150,000 visitors yearly.
Key West is a fantastic destination for artists and writers with its free-spirited atmosphere. There are plenty of galleries, and boutiques, and the area is popular for its vibrant nightlife. Dubbed "The Home of the Sunset," there's a nightly celebration held at Mallory Square Dock, full of artists, musicians, street performers, and jugglers.
Big Pine and Lower Keys 
This area is the least populated of all the Keys and draws tourists who prefer a slower pace. Here, it's not only about enjoying the natural environment, it's also about enjoying the abundant wildlife. The National Key Deer Refuge protects the endangered Key Deer and other wildlife. Often referred to as The Natural Keys, this region offers a quieter side of the Florida Keys where visitors get the chance to reconnect with a more natural way of life.
Sugarloaf Key
This is another, more tranquil island than a place like Key West or Marathon. Sugarloaf Key is a great location if you're looking for a vacation home that you'll also use as a peaceful getaway. A little over 17 miles from Key West, Sugarloaf Key provides perfect tranquility and easy access to the livelier spots in the Florida Keys. 
Sugarloaf Key holds the Great White Heron National Wildlife Refuge, where people can kayak, canoe, and fish.  
Cudjoe Key
Between Big Pine Key and Sugarloaf Key, you find Cudjoe Key. This area offers great beaches and is known for its vacation rental properties. There's a plethora of water activities available including fishing, kayaking, snorkeling, and boating. However, the overall atmosphere of the area is very relaxed and laid-back. 
For many, Cudjoe Key provides the perfect balance between fun and excitement and tranquility and relaxation.
Ramrod Key
Ramrod Key is located only 27 miles away from Key West. Ramrod Key has a great selection of vacation homes, ranging from those which are relatively modest to ultra-luxurious properties. As with many islands on this list, there's a range of water activities. There are also some great places to eat and socialize, such as Boondocks Grille and Draft House which also hosts an open-air market every Saturday morning. 
Summerland Key
20 miles from Key West lies Summerland Key. Summerland is a little more upbeat than the few previous entries but on a smaller scale than Key West. There are private charter fishing and tour boats, jet ski rentals, and many dining spots. Nearby are some great hiking trails for those who want to see the island. 
Little, Middle, and Big Torch Key 
Little Torch Key is a secret gem in the Florida Keys. It has white sand beaches and the water is beautifully azure. There's a distinctly upmarket feeling in the Torch Keys with amenities such as Spa Terre in Little Palm Island Resort but there's also a great sense of easygoing fun in places like Kiki's Sandbar. The Torch Keys encapsulate the beauty and relaxed life to be had in the Keys, with more than just a touch of upmarket luxury. 
What to take into consideration
Will you need a property manager? 
If you are not local to the Florida Keys and even if you are, you may want to hire a property manager to manage your vacation rental. They'll take care of renting out your property, including vetting for the right guests. They can even look after the marketing of the house. They'll also take care of the cleaning, small maintenance, and any repairs that need to be done on the property. 
Property managers normally charge between 8%-10% of the income generated by vacation homes, however, for many this is worth it considering the amount of convenience they provide. 
Be aware of the maintenance and insurance
When you buy a property close to water you'll need to take a little more care of it to keep it in top shape. There's the added protection the property needs against the elements and it will need a power cleaning at least twice a year to remove the build-up of salt and sand on the exteriors. You'll also need to repaint your exteriors a little more often than with a traditional home. 
Note that home insurance will also be slightly higher for beach or waterfront homes and that you'll often be required to purchase flooding insurance which typically does not come as standard in many insurance schemes. 
Be aware of natural events
Florida has a medium to high risk of natural disasters. They often take the form of hurricanes, and while big hurricanes are rare, they can set back tourism if they are particularly strong. Bear in mind that should there be a strong hurricane, your property may not be able to generate income for a while. 
Having said this, the Florida Keys still represents more than a good location for vacation rental investment, as shown in the growing market in the area. 
Working with the Florida Keys professionals
Investing in Florida Keys vacation rentals is a breeze with the seasoned real estate team at Angel DiGiorgio Florida Keys Luxury Realtor. Led by Angel DiGiorgio – a resident of the Upper Keys for over 25 years, the team of luxury Realtors has extensive local knowledge and expertise. They deliver a personalized service to make your vacation rental investment a satisfying and rewarding venture.
Start investing in a vacation rental by allowing the team of Angel DiGiorgio Florida Keys Luxury Realtor to assist you. Call them at 305.509.0971 or send them an email
You can also leave a message here.